Steven Lubar observes how some museum collections stay alive and relevant and some do not (Lubar 9). He suggests that to keep their meaning, the collections need to embrace change. You can see this an example of this in the Pavilion for Peace, the Hornstein's 2012 seventy-five-million-dollar donation to the Montreal Museum of Fine Arts, designed to shed exclusivity and combat museum fatigue: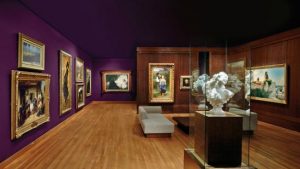 Lubar is incorrect to say that the founder's will might prevent museums from hosting new exhibits and attracting researchers. The Pitt Rivers Museum in Oxford was founded in 1884 with 18,000 artifacts, now has about 300,000 and hosts over 100 research visits a year: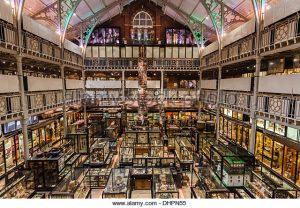 How do the Richler rooms fare under Lubar's scrutiny? They are not open to the public, and they are a static collection of what Professor Camlot described to us as books that we could mostly buy for less than five dollars each at a second-hand book store. The collection does not travel, it does not transfer anything to other collections and it has the specialist focus only of preserving the bookshelves of a well-known writer and it has no endowment. How connected to Mordecai Richler is the collection? The writer annotated his books sparingly; then he usually only made his own index of noteworthy page numbers in the flyleaf. The Richler Collection looks permanent; is it an endangered life-form, as Lubar hints? (5) It is already connected to loss, since Professor Camlot admitted that some volumes have disappeared.
My example this week illustrates a parallel loss, a loss of a book and a loss of humanity. It is a volume that exists in the Richler Room database, but has been lost from the collection over the past year, Ronald Searle's To the Kwai and Back, War Drawings 1939-1945. This was an 8 ½ x 11" volume published by The Atlantic Monthly Press in Boston in 1986: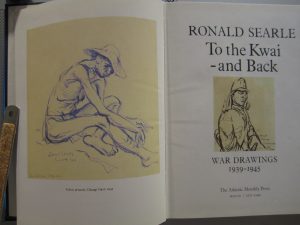 Searle describes this pictorial record as he felt when he worked on the Siam Death Railway as a prisoner of the Japanese, as the graffiti of a condemned or lost man (Searle 10). 'My mission…to emerge with a 'significant' pictorial record that would reveal to the world something of what happened during those lost and more or less unphotographed years' (9). It is not surprising, in Searle's biographical notes, that this led to black humour and themes of torture, confinement and forced labour in his St.Trinian's series (28):
Why was this book in Richler's collection? Perhaps connected to his two anthologies, The Best of Modern Humour (1986) and Writers on World War II (1991). Richler published plenty of literary graffiti as a journalist since 1960 and throughout his career, from Macleans to the Manchester Guardian, Vogue and the New Yorker (Foran 265, 311,324, 605). Both Searle and Richler were non-conformists.
Searle expected to die while he drew this account of the loss of humanity. Can we gain anything from the account of war?
One of the oral history writers from Richler's anthology of World War II writers suggests that it is possible to acquire humanity during conflict:
'I think of the nineteen year old rifleman…"It was sunshine and quiet. We were passing the Germans we killed. Looking at the individual German dead, each took on a personality. These were no longer an abstraction. They were no longer the brutish faces and the helmets we saw in the newsreels. They were exactly our age. These were boys like us" ' (Terkel 5).
In another oral retelling of the war we meet Searle's adversaries:
'Our first operation was in Guam. That was the first time I saw a dead Japanese. He looked pitiful, with his thick glasses. He had a sheaf of letters in his pocket. He looked like an awkward kid who'd been taken right out of his home to this miserable place' (66).
And there are signs of gain too for the Richler rooms. The website search engine will be improved, and the collection is open to anyone who comes to Concordia on its open days. The collection draws conferences and academic get-togethers from across Canada. The University employs the rooms as a resource for classes that have Mordecai Richler as part of their coursework, uses the rooms for seminars on other topics (I was here for a post-colonialism course last year), and is now using them to instruct us about research and collections in general. It is accessible to members of the public on application to Professor Camlot, and it has the advantage of continuous funding. We also know that archival work continues with the help of Sean and Chasley.
The Richler collection is not lost because of some missing books. It continues to survive, reflecting most of Lubar's arguments, because it provides an effective resource for teaching and researching in an interesting and eclectic way.
Works Cited and Consulted
"Pavilion for Peace." Web. Accessed 21 Oct. 2017<https://www.google.ca/search?q=pavilion+for+peace%2Bphotos&rlz=1C1CHBF_enCA708CA708&tbm=isch&source=iu&pf=m&ictx=1&fir=SN9Alug9IyrCXM%253A%252Cm4c-gwQnoQ8BLM%252C_&usg=__i2rNEZYi3GBzw0URLuJZqLWx9Sc%3D&sa=X&ved=0ahUKEwiglsWL8YHXAhXJRSYKHa_3CXoQ9QEIPTAI#imgrc=n0atMCg-Nq4t5M:>.
"Pitt Rivers Museum." Web. Accessed 21 Oct 2017.<https://www.google.ca/search?q=pitt+rivers+museum%2Bphotos&rlz=1C1CHBF_enCA708CA708&tbm=isch&source=iu&pf=m&ictx=1&fir=y6wQ0qNbktzr-M%253A%252Cp0zZbWbamuGDGM%252C_&usg=__2G_rmeELZlw1bnKVHEZx8fbP6Qo%3D&sa=X&ved=0ahUKEwjhoavS8oHXAhUCeSYKHbYRD2sQ9QEIKjAA#imgrc=y6wQ0qNbktzr-M:>.
Foran, Charles. Mordecai: The Life & Times. Toronto: Alfred A. Knopf Canada, 2010. Print.
Lubar, Steven. "Lost Museums." Museum History Journal 10.1 (2017): 1-14. Print.
Richler, Mordecai. The Best of Modern Humour. Toronto: McClelland and Stewart, 1983. Print.
—. Writers on World War II: An Anthology. Toronto: Viking, 1991. Print.
Searle, Ronald. To the Kwai and Back, War Drawings 1939-1945. Boston: The Atlantic Monthly Press, 1986. Print.
Searle, Ronald, and Henning Bock. Ronald Searle. New York: André Deutsch, 1979. Print.
Searle, Ronald. Ronald Searle in Perspective.  Boston: Atlantic Monthly Press, 1984. Print.
Terkel, Studs. "the Good War": An Oral History of World War Two. New York: New Press, 1997; 1984. Print.